Podcast: Play in new window | Download
Subscribe: Apple Podcasts | Google Podcasts | Spotify | Android | Stitcher | TuneIn | RSS | More
If you'd like to see as well as hear the sights in this episode, check out this episode as a video on the new When in Spain YouTube channel.
I hit Madrid's Christmas market to see what's on offer and talk about the Spanish Christmas and New Year timetable. I head up to Doña Manolita's – the place to buy a lucky Christmas lottery ticket and look at why 'El Gordo' is an essential part of the festive season.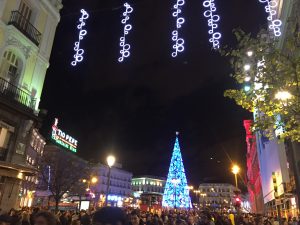 Then a stop at 'Cortylandia' a slightly tacky spectacle and a must see for families and their kids at Christmas. I wander through a quieter than usual Puerta del Sol to see where thousands of people gather to see in New Year, counting chimes and eating grapes. Finally, food! I look at what Spaniards eat at Xmas, sweet and savoury! Feliz Navidad!
FOLLOW WHEN IN SPAIN
📺Subscribe on YouTube: https://bit.ly/2SOrKrL
👨‍👩‍👧‍👦Join the When in Spain Facebook Group. https://bit.ly/2CdDgWt
📷Follow on Instagram to see photography from across Spain. https://bit.ly/2D5p6IJ
WANT TO SUPPORT WHEN IN SPAIN? 💚 Make a small donation $1-$5 via Patreon: https://www.patreon.com/wheninspain
WHAT IS WHEN IN SPAIN?
The When in Spain show is a weekly podcast show, recorded in Madrid (and other parts of Spain) where l talk about my 'warts and all' observations and insights on life and culture on the Iberian peninsular.
I cast an eye on everyday life, people, places, politics, culture and history and attempt to give an honest opinion from a Brit who has a love-frustration relationship with Spain. I shall attempt to dispel or indeed confirm Spanish stereotypes through my ramblings and see if I can delve into the Spanish psyche.
………………………………………………………………………………………………………
WHO THE HELL IS WHEN IN SPAIN?
I'm Paul Burge, former BBC journalist, Hispanophile and Manchego lover. A Brit, born in Oxford and living in Spain for almost 5 years. I currently live in the centre of Madrid.
………………………………………………………………………………………………………
CONTACT wheninspain1@outlook.com