Podcast: Play in new window | Download
Subscribe: Apple Podcasts | Android | Google Podcasts | Stitcher | TuneIn | Spotify | RSS | More
I hit Madrid's Christmas market to see what's on offer and talk about the Spanish Christmas and New Year timetable. I head up to Doña Manolita's – the place to buy a lucky Christmas lottery ticket and look at why 'El Gordo' is an essential part of the festive season.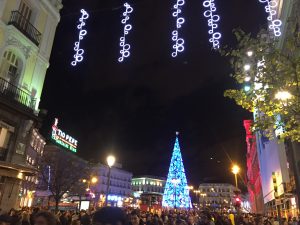 Then a stop at 'Cortylandia' a slightly tacky spectacle and a must see for families and their kids at Christmas. I wander through a quieter than usual Puerta del Sol to see where thousands of people gather to see in New Year, counting chimes and eating grapes. Finally, food! I look at what Spaniards eat at Xmas, sweet and savoury! Feliz Navidad!
If you'd like to see as well as hear the sights in this episode, check out this episode as a video on the new When in Spain YouTube channel.
FOLLOW WHEN IN SPAIN
📺Subscribe on YouTube: https://bit.ly/2SOrKrL
👨‍👩‍👧‍👦Join the When in Spain Facebook Group. https://bit.ly/2CdDgWt
📷Follow on Instagram to see photography from across Spain. https://bit.ly/2D5p6IJ
WANT TO SUPPORT WHEN IN SPAIN? 💚 Make a small donation $1-$5 via Patreon: https://www.patreon.com/wheninspain