Podcast: Play in new window | Download
Subscribe: Apple Podcasts | Google Podcasts | Spotify | Android | Stitcher | TuneIn | RSS | More
Cerveza
! Yes, a whole episode dedicated to beer! Salud! Spain is the 4th biggest beer producer in Europe and the 10th biggest in the world.
But, ordering a beer can be a confusing experience. Do you order a
caña
or a
tubo
? What's the difference between a
copa
and a
doble
? How big is a
tanque
? Can I just order a pint? Maybe. Beers in Spain come in all shapes and sizes, and how you order them will often depend what region, city or bar you're in.
I try to clear up the confusion in this episode by hitting some bars and drinking some beers.
All in the name of research of course!
I also look at the regional beer brands found across Spain and find Málaga's Victoria beer on tap in the centre of Madrid, to my surprise. I chat to a butcher turned bar owner about people's changing tastes and find a craft beer store that caters to Spain's increasing demand for more exotic flavours.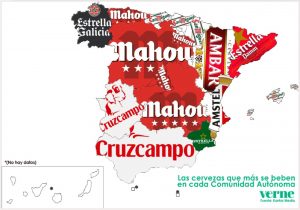 WHAT IS WHEN IN SPAIN?
The When in Spain show is a weekly podcast show, recorded in Madrid (and other parts of Spain) where l talk about my 'warts and all' observations and insights on life and culture on the Iberian peninsular.
In each episode of the podcast I cast an eye on everyday life, people, places, politics, culture and history and attempt to give an honest opinion from a Brit who has a love-frustration relationship with Spain. I shall attempt to dispel or indeed confirm Spanish stereotypes through my ramblings and see if I can delve into the Spanish psyche.
………………………………………………………………………………………………………
WHO THE HELL IS WHEN IN SPAIN?
I'm Paul Burge, former BBC journalist, Hispanophile and Manchego lover. A Brit, born in Oxford and living in Spain for almost 5 years. I currently live in the centre of Madrid.